For all you comfort seekers, looking for a night after night first-class feeling, we've got you. Designed exclusively for Bensons for Beds, the Sealy Orwell mattress stands proudly at the top of the Sealy Posturepedic range.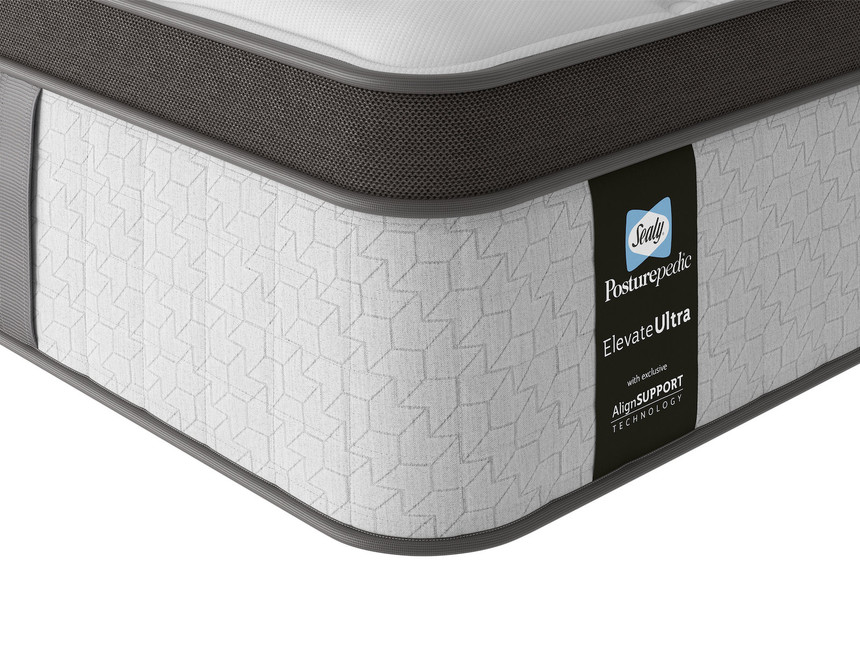 Choose size: Single | Small double | Double | King size | Super king
Reasons to Buy the Sealy Orwell Posturepedic Mattress
AlignSupport® spring technology – the spring's unique construction senses your shape, then follows up with deep down consistent support, year after restful year
Durable UniCased® XT edge support – creating a responsive and stable seating edge that's perfect for getting ready in the morning or supporting you as you climb into bed at the end of the day
Indulgent Latex layer – adapts perfectly to your body for resilient, pressure relieving support, and a layer of premium InfiniLux™ foam for a luxurious feel
With an added MemorySense® ComfortCore™ – offering pressure relief where your body needs it most
Breathable air mesh border – promotes natural airflow
Intelligent SmarTex® fibres – regulating your temperature and wicking away moisture for a comfortable night's rest
Endorsed by Allergy UK – ProShield® fibres are woven into the fabric of the mattress, keeping pesky allergens and dust mites at bay
Quilted with a premium soft-touch, stretch-knit fabric – carefully designed and tailored to create a contemporary look
Designed in conjunction with the Orthopaedic Advisory Board – Sealy have partnered with the international OAB for nearly two decades. The board is made up of orthopaedic surgeons, bio-mechanical engineers, and medical scientists
Expertly designed and handcrafted in Britain – designed exclusively for Bensons for Beds
Available in two comfort ratings – Medium and Firm
Mattress depth – 33cm
Easy care – no turn mattress
Free 10 year guarantee – for total peace of mind
Sealy Orwell Posturepedic Mattress
Developed and engineered by experts, the AlignSupport® spring system is the heart of this Sealy mattress. As well as being designed to deliver superior support, it also provides the all-important base for the comfort layers to enhance the durability that every sleeper deserves. Our AlignSupport® has been carefully crafted and has evolved over time to become a two stage spring. First, it senses your unique body shape as you relax into the mattress. Then an instant response applies deep-down, consistent support. Also, the spring unit is twice tempered, which means it's twice as strong and durable. So, you can sleep soundly knowing this mattress has got your back. Literally.
Working together with the spring system is our patented UniCased® XT edge support. Covering the whole edge, the tailored keys lock into the AlignSupport® system to create better stability and allow you to sleep right up to the very edge. The coil-inspired air channels improve breathability and give you a sturdy seating edge that supports you as you get out of bed and ready in the morning and holds you as you climb into bed at the end of the day.
We all know anything solid and durable needs firm foundations, and the Sealy Posturepedic BasePlank provides exactly that. It's the most important piece of the puzzle that underpins the entire mattress and works with the AlignSupport® spring system to give you reliable support you can trust. For those who prefer something a little less firm, it is also available in a Medium comfort rating, so we've got you covered.
Packed with layer after layer of premium comfort, the Orwell Sealy Posturepedic mattress has it all. For starters, there's a centre of MemorySense® ComfortCore™ to target your hips and lower back, for the ultimate pressure relief. Next is our very own InfiniLux™ – a luxe, premium foam that offers resilience and luxurious comfort. But the cherry on this comfort cake is a layer of Latex that gives you superior pressure relief and a soothing feel that lasts.
Obviously, your mattress should feel good, but we think it should look good too. So, the textiles have been expertly designed and selected to stand out, complete with SmarTex® and ProShield® for a clean and comfortable night's rest. SmarTex™ is designed to wick away moisture, helping to regulate your sleep climate, whilst ProShield® keeps allergens at bay. Don't just take our word for it though, ProShield® is endorsed by Allergy UK for added peace of mind.
Oh, and if all of that wasn't enough, the breathable air mesh border also contributes to natural airflow, allowing air to circulate freely through the mattress.
---
You may also like: