Ottoman beds are increasingly popular for those seeking extra bedroom storage that's easy to access. Ottoman storage beds have internal storage that covers the entire space under your bed, with access from the end or side by way of a gas-lift and hinge mechanism. These make light work of lifting your mattress and covers by hand. Pistons also keep the bed lifted until you're ready to place the mattress back down, giving you two free hands to access your things.
Top 10 Ottoman Storage Beds Recommended
Ottoman storage bed for sale, available in a range of sizes from UK's top retailers online. So you're sure to find a stylishly practical bed to suit a bedroom of any size. Great price with free delivery and able to choose the day which the bed was to be delivered. Here are a few of our favourites:

Ottoman Storage Bed Buying Guide
Part of completing your dream bedroom is having a bed that is comfortable but also suits the needs of your space. Ottoman beds use the large amount of space between your mattress and the floor that is often neglected. This space provides an ideal area for storing anything from spare bedding and towels to shoes and handbags.
When choosing an ottoman storage bed, there are certain factors you should consider before settling on your decision. In this ottoman bed buying guide, we will ensure that you are making the right choice.
(1) What is an Ottoman bed base?
An ottoman bed base is a style of base that allows the platform top part, where the mattress sits, to be lifted up, which allows for far greater storage space than a 4 drawer divan base. These have become more popular as space in people's houses is increasingly at a premium. Ottoman beds allow you to store far more items within it and aren't as restrictive as some drawers in a divan base can be, such as a two-drawer model to allow for bedside tables. Think of it as a chest where the mattress sits on the lid, and then by lifting up the lid you can raise the mattress up allowing you to use the box frames of the bases to store things in.
(2) What sizes are available for an ottoman bed frame?
Ottoman storage beds are available in a range of sizes: single, double, king, super king size. So you're sure to find a stylishly practical bed to suit a bedroom of any size
Single ‐ For small bedrooms, a single ottoman bed is ideal. When space is at a premium, having extra space to keep items is a huge bonus. When the storage is contained within part of the bed that is usually unused, it's even better!
Double – A double ottoman bed gives you enough space to share a bed comfortably with your partner while also providing ample room beneath to keep your things.
Small Double – If you don't have enough room to accommodate a double. A small double ottoman averages at 15cm narrower than a double, meaning it will fit in smaller bedrooms.
King size – At 200cm tall and 150cm wide, an ottoman king size bed provides plenty of sleeping space as well as an abundance of storage within the bed frame.
Super King size – For ultimate luxury, a super king size ottoman can't be beaten. This frame boasts an 180cm wide base, allowing you ample room to store things.
(3) What are the benefits of ottoman beds?
Ottoman beds offer the most space out of all storage bed bases, with a lift‐up lid which makes use of all the space the frame provides. When you consider all the things you have to keep in your bedroom (especially if you share it with a partner), it can be a real struggle to fit it all in without limiting the size of your bedroom furniture . An ottoman storage bed solves a lot of those issues with the vast space provided, designed specifically for storage.
As well as for couples, ottoman storage beds can work particularly well for children that share a bedroom. The extra storage gives your kids a place to put away their things neatly without having to fight over wardrobe space or having bulky toy boxes taking up valuable floor space in the bedroom.
(4) Choosing your ottoman bed style
The construction of ottoman beds means they are upholstered, giving your bedroom an added texture and high‐quality finish.
Some ottoman beds come with headboards , ranging from fresh, contemporary styles with squared edges in neutral mink, to vintage, romantic styles with buttons in grey fabric. There are also leather, velvet and woven fabrics to choose from to ensure you get a style that suits your décor perfectly.
For the ultimate luxury and comfort, a TV ottoman bed might be the right choice for you. These have a TV in the foot-end that is raised and lowered using a remote control, allowing you to have the perfect cosy weekend lie in.
(4) Pros and Cons of Storage Beds

As with any new purchase, it is worth looking at the pros and cons to determine if it is the right style for your needs:
Pros:
It will help keep your bedroom tidy and maximise the space available.
Adds to the overall design of the room, giving a clean and elegant finish.
Reduced clutter means reduced dust, making the room easier to keep clean.
Cons:
Storage beds can be heavy and bulky to move, particularly when full of belongings, making it harder to move around when cleaning or redesigning the layout of the room.
As it is a solid structure, as opposed to a bed with a slatted base that can be completely disassembled, it may be difficult to manoeuvre into the bedroom depending on the size of your property, the width of doorways, etc.
Some would say that the pros outweigh the cons, but it is very much dependent on your individual circumstances.
Best Ottoman Storage Bed Reviews

#1. Deacon Upholstered Ottoman Bed Frame Review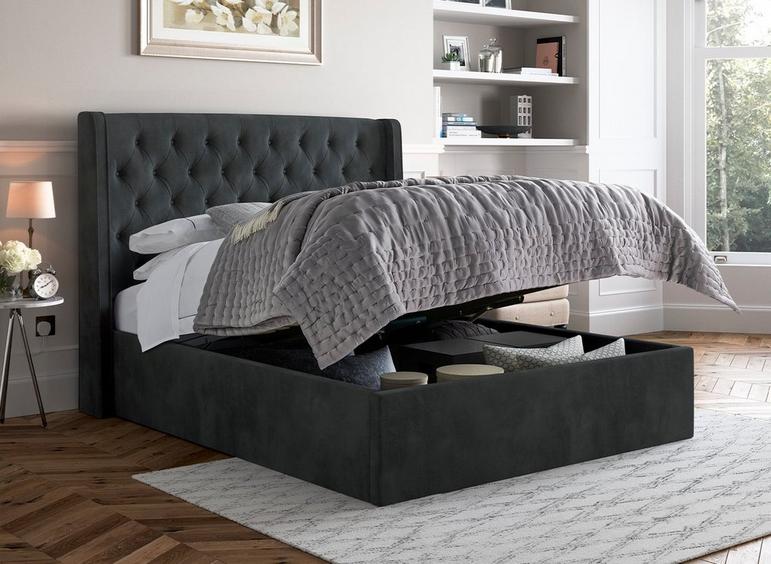 Specifications:
Fabric upholstered frame
High headboard button detailing
Front end opening ottoman (Storage depth: 23cm)
Available in cream flat weave and grey velvet finish
Sprung slats as standard for extra support and comfort
Also available as a standard non-ottoman bed frame
Matching cream and grey bedside chests available. Add a matching cream blanket box or grey blanket box for extra storage.
#2. Hampton Velvet Grey Sleigh Ottoman Bed Frame Reviews

Specifications:
Soft, grey velvet upholstery
Chesterfield-style design
Deep-buttoned scroll headboard and footboard
Ideal for both modern and contemporary bedrooms alike
Ottoman bed frame
Ottoman can be fitted to open left or right
Headboard height: 142cm
Footboard height: 76cm
Recommended weight capacity: 200kg
Overall dimensions:

Double: 150cm x 223cm | 86kg
King: 163cm x 233cm | 90kg
#3. Crushed Velvet Diamante Ottoman Bed Review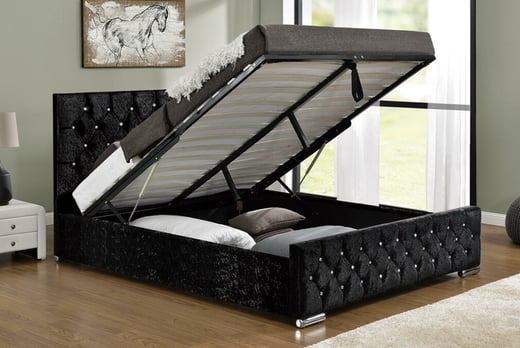 Specifications:
Ottoman: Get a diamante velvet ottoman bed.
Mattress: Upgrade and receive a memory foam mattress.
Sizes: Choose from small, small double, double or king size.
Design: A classy black, velvet bed frame with a diamante headboard for any modern bedroom.
Assembly: Simple home assembly is required
#4. Grey Chesterfield Ottoman Bed & Mattress Options!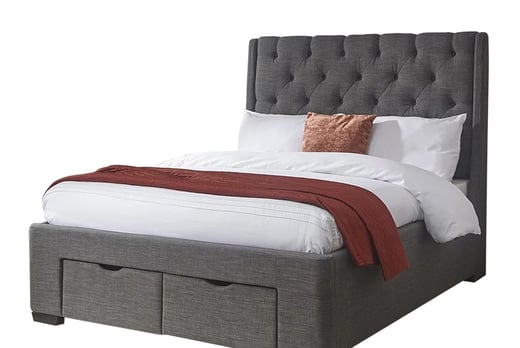 Specifications:
Chesterfield storage bed: Get a chic Koln grey fabric storage bed.
Four options: Choose from a 4ft6 double or a 5ft king frame-only bed, or a double or king bed with a mattress included.
Mattress: Upgrade to a 20cm medium soft memory foam mattress, made with six inches of reflex foam and two inches of memory foam.
Storage: Includes two deep drawers at the foot of the bed for storage, ideal for bedding or clothing.
Headboard: The padded and buttoned headboard made with chic grey hopsack fabric is stylish and comfortable to rest on.
#5. Crushed Velvet Sleigh Bed With Storage Review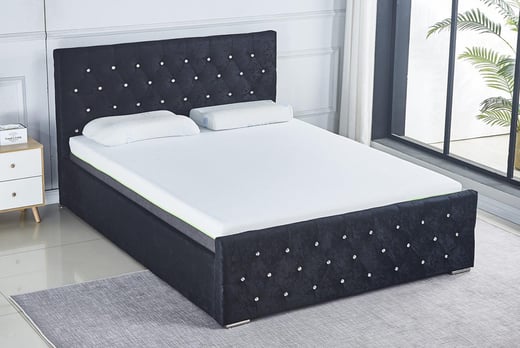 Specifications:
Ottoman: Get a diamante velvet ottoman bed.
Mattress: Upgrade and receive a memory foam mattress.
Sizes: Choose from small, small double, double or king size.
Design: A classy black, velvet bed frame with a diamante headboard for any modern bedroom.
Assembly: Simple home assembly is required.
Realated item at Amazon.co.uk
#6. Fabric Gas Lift Ottoman Bed - Mattress Option Reviews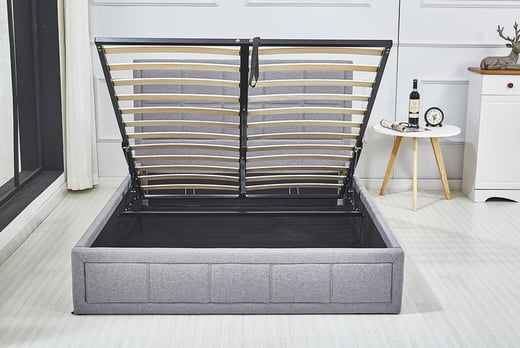 Specifications:
Ottoman bed: Get a fabric gas lift ottoman bed.
Mattress: Upgrade to get a Bonnell memory sprung mattress.
Sizes: Option of single, small double, double or king.
Storage: Features storage space under the bed to keep clothes, bedding or any other items organised.
Design: With a gas-lift mechanism to ensure it is easy to lift and a wooden slatted base for long-lasting support for the mattress.
Colour: Finished in a gorgeous light grey colour.
#7. Handmade Madrid Wooden Ottoman Bed Review

Specifications:
Contemporary design
Rubberwood and MDF
Slat type: sprung slats
Optional tufted Bonnell-spring mattress
The oak or clean solid white finish
Dimensions for a 135cm bed: 201cm (L)|148cm (W)| headboard height: 114cm| footboard height: 32cm

Dimensions for a 150cm bed: 209cm (L)|163cm (W)| headboard height: 114cm| footboard height: 32cm
#8. King Size Wing Back Safina Ottoman Bed Reviews

Specifications:
Easy access front opening storage space with gas lift mechanism
Plenty of storage space, the entire area beneath the mattress can be used
Its solid base helps to protect your flooring, also helping to protect your items from dust
Beautiful studded headboard, creates an instant focal point in the bedroom
Silver grey finish makes it easy to coordinate with other bedroom furnishings and decor styles
#9. White Faux Leather Ottoman Bed Foot Lift with HEADBOARD Review

Specifications:
FAUX LEATHER FOOT LIFT OTTOMAN BED BASE AND HEADBOARD ONLY.
PREMIUM QUALITY FAUX LEATHER .
3FT | 4FT | 4FT6 | 5FT | 6FT QUALITY OTTOMAN STORAGE BED BASE.
PRODUCTS ARE MANUFACTURED IN HOUSE AT COMFY DELUXE LTD.
#10. Sana Ottoman Bed Reviews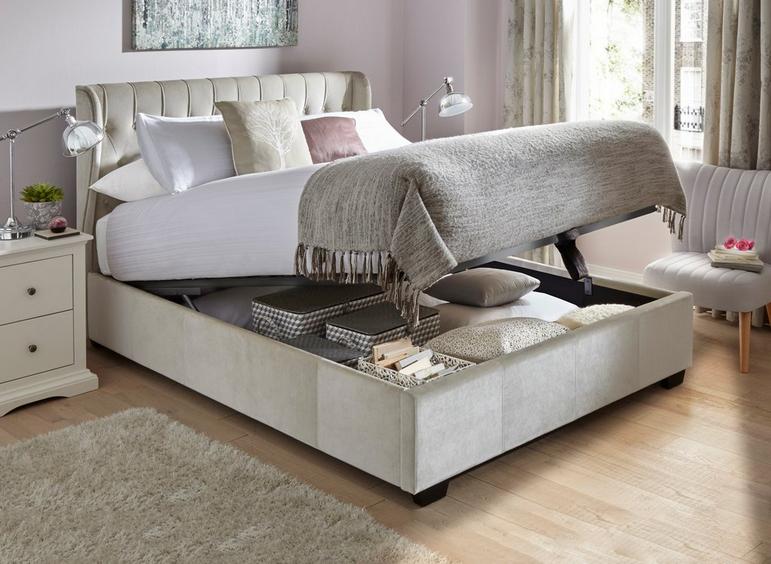 Specifications:
Luxury plush pearl or grey fabric
Winged head end
Solid base ottoman storage
Front opening ottoman
Internal storage depth: 23cm
The Sana is a high-end luxurious fabric upholstered ottoman bed that will add a sense of opulence to any room.
Related Items