Another great thing about this mattress is that it's seasonal. "How?" we hear you ask! Well, the Valerio Backcare is a double-sided mattress that has layers to suit the seasonal changes in the year. One side is layered with natural wool fibres that help keep you warm on chilly nights. The other side of the mattress has breathable fibres made from recycled materials, that will keep you cooler during those lovely summer evenings. Just simply flip the mattress to your preferred side so you can sleep comfortably all year round.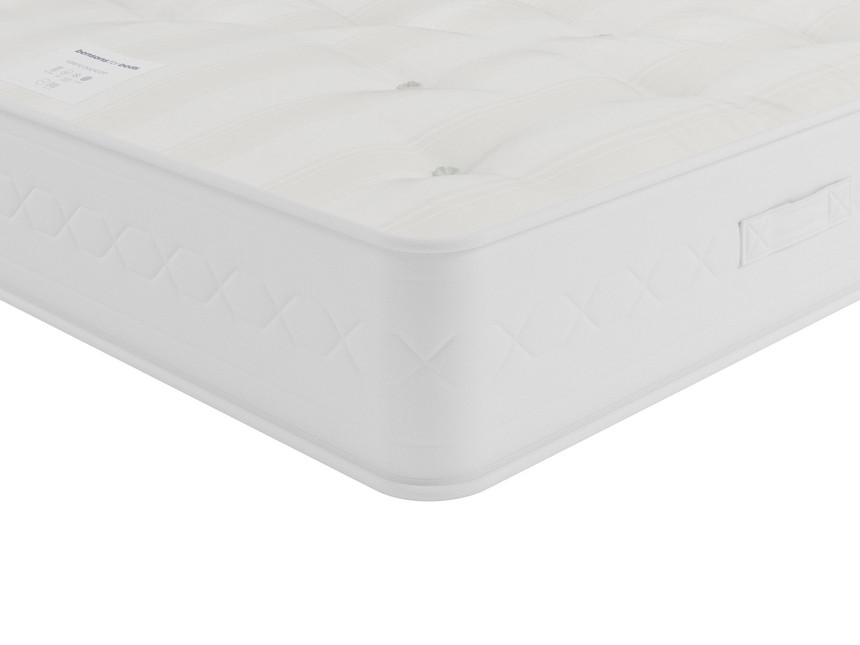 Choose size: Single | Small double | Double | King size | Super king
Reasons to Buy the Valerio Backcare Mattress
1000 firm pocket springs – for premium, balanced support
Upholstered with a Belgian damask cover – gives you a soft, durable, and breathable sleep surface
Double sided mattress – flip seasonally to sleep well whatever the weather
Seasonal comfort layers – cosy wool layer for the cooler months and a recycled, breathable layer for the warmer months
Tufted mattress – for added firmness and durability
Comfort rating – Firm (also available in Extra Firm as the Valerio Ortho Backcare)
Free 5 year guarantee – for peace of mind
Quality assured – made in the UK
Valerio Backcare Mattress
Covering the mattress is a strong, woven Belgian damask fabric that improves the mattress's durability and gives you a soft sleeping surface. Just when you thought this mattress couldn't get any better, it's also tufted. This means the mattress fillings have been pulled together to maintain the shape of the mattress. As an extra bonus, the tufting also gives you more support and increases the longevity of the mattress. Great value for money and you'll get the most out of your bed? Sounds great to us!
With all these amazing features, we're sure you'll be bouncing out of bed feeling refreshed and energised after a great night's sleep.
Prefer something firmer? We also have the Valerio Ortho Backcare Mattress which has an Extra Firm comfort rating.
---
You may also like: