Bid farewell to restless nights and welcome the serenity of profound sleep, guided by the mattress's AIR channels, surpassing the breathability benchmarks of conventional memory foam by 5 times, ensuring a perpetually cool sleep sanctuary. The mattress fabric, treated with Temperature+, becomes your sleep climate controller, harmonizing your body temperature and nourishing your skin, transcending seasonal shifts.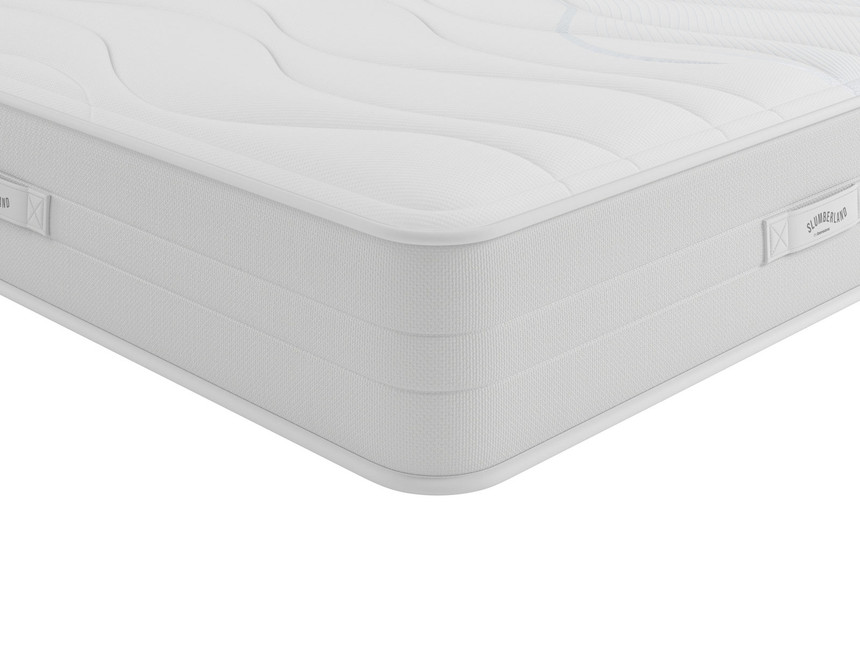 Choose size: Single | Small double | Double | King size | Super king
Reasons to Buy the Slumberland Air 2.0 Memory Mattress
1050 Pocket springs – which adapt individually to body movement, for premium responsive support
Exclusive 7 Zone Pressure Relieving AIR Memory Foam (4cm) – zoned to cleverly contour to key body areas, for responsive, pressure relieving comfort and support
Sensaform Memory Foam with breathable air channels – 5 times more breathable than standard memory foam, to help you sleep cooler
Dynamic reinforced edge support – for added durability, reduces roll-off, and optimises the sleep surface all the way to the edge of the mattress
Temperature+ treated fabric – helps regulate body temperature for sleep comfort and designed to rehydrate the skin whilst you sleep
Deep quilted, stretch-knit sleep surface – featuring Truecomfort fillings for breathable, cushioning comfort
Pro-bio treated fabric – a natural treatment in the fabric, to reduce harmful bacteria and help prevent the effects of dust mite allergens
Easy care – no turn mattress, for ease of use
Mattress height – 5cm
Available in two comfort ratings – Medium and Firm
Made in the UK in a British Kitemark™ Quality Accredited factory – recognised as a symbol of quality, safety and trust for more than 100 Years
"I'm Green™" packaging – made from a minimum of 50% sugar cane and 30% recycled plastics
Free 8 year guarantee – for total peace of mind 
Slumberland Air 2.0 Memory Mattress
Embark on an undisrupted nocturnal journey with 1050 individually adapting pocket springs, the custodians of your tranquillity, adept at absorbing motion and offering you peace throughout the night. The dynamic reinforced edge support, a testament to endurance, diminishes roll-off concerns and extends the sleep terrain seamlessly to the very edge of the mattress. Manufactured in a British Kitemark™ Quality Accredited factory, with the legacy of over a century's trustworthiness, the mattress holds up against the tests of time. So assured are we in its resilience that we offer an 8-year guarantee, for total peace of mind. Maintenance is simplicity itself – just one rotation every two weeks for the first six months, then monthly a rotation thereafter, using the attached handles.
If you have apprehensions about allergies, then find solace in the AIR's Pro-bio treatment, a natural guardian that deters allergens, offering a night-time haven untainted by worries. Survey our selection of Slumberland AIR mattresses here, each boasting distinctive virtues, firmness ratings, and spring counts. Usher in a paradigm shift in your well-being, as the extraordinary Slumberland AIR Mattress takes the centre stage. Opt for sleep quality, and embrace the exceptional.
---
You may also like: