If you wake up in the morning with sore shoulders, an aching lower back and hips or tingly legs, your current mattress could be the problem and the Silentnight 3 Zone Memory Foam could be the solution.
Silentnight 3 Zone Memory Foam Features
Quality memory foam mattress with miratex 3 zoned support system
Mattress Type: Memory Foam (3cm) | Reflex Foam
Mattress Top Finish: Quilted
Firmness: Soft to Medium (2)
Mattress Depth: 18 cm
5 year guarantee
Double size weight capacity: 203kg
Rolled-up mattress
Silentnight 3 Zone Memory Foam Review
1. Memory 3 zone mattress structure
The Memory 3 Zone Mattress is delivered in a roll-up form for your convenience, allowing easy manoeuvrability around the most awkward staircases. 3 zoned support gives gentle anatomic support whilst you sleep, easing away those aches and pains. Dustmite resistant and with hypoallergenic properties, this is the ideal mattress for anyone looking for a cleaner, healthier night's sleep.
SOFT Zone 1 covers the top part of the mattress. This is where your head, shoulders and upper back lie. This section of your body requires soft support. The surface should be firm enough that it does not sink excessively but not too firm that your shoulders dig into the mattress.
The soft mattress zone contours around the angles of your upper body, preventing any pressure points. This is especially relieving if you have existing muscle or joint problems.
FIRMER Zone 2 covers the mid part of the mattress. This corresponds to your hips and lower back. The second zone is especially important for proper spinal alignment. It ensures you don't wake up with an aching lower back.
To provide adequate support and alignment to the back and hips, this zone is firmer than the other two though is still soft enough to provide a plush hug around your middle section.
SOFT Zone 3 is the bottom part of the mattress. It corresponds to your lower body including your thighs, knees, legs and feet. Like the upper body, your lower body also needs soft support to ensure your knees and feet don't press painfully into the mattress.
2. Contouring memory foam
The mattress uses a special type of memory foam called Miratex foam. It has the plush comfort and contouring support of traditional memory foam but with a slightly firmer and bouncier feel. The foam distributes your weight throughout the mattress, ensuring even support.
Additionally, it has been specially designed to transfer as little motion as possible. This is great news for couples sharing a bed.
3. Purotex treated
The mattress has been treated with Purotex probiotics. This is a type of treatment that uses natural bacteria to keep away allergens such as dust mites.
Purotex treatment also makes the mattress resistant to moisture. This keeps the mattress dry and fresh.
4. Quilted cover
At the very top of the mattress you will find a soft quilted fabric cover. It has a certain luxury plush feel to it. It is also breathable, ensuring it does not heat up your sleep.
How easy is it to maintain?
There is not much you need to do in terms of maintenance. The cover has a zipper so you can easily remove it for washing. Follow the manufacturer's instructions when washing to make sure you don't damage the fabric. Other than that, you just need to set the mattress up on a strong foundation.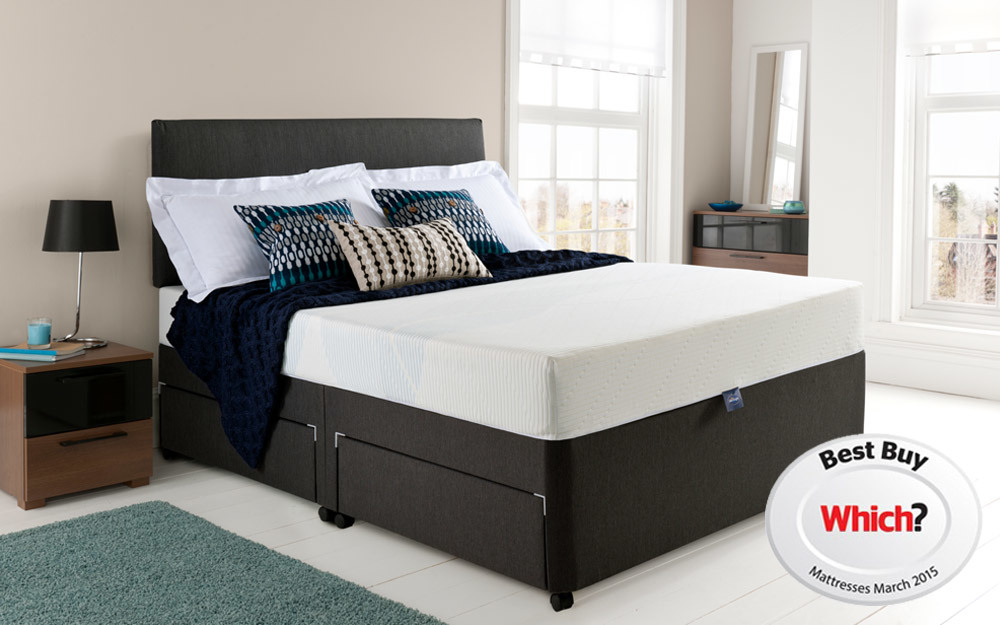 Summary
Pros
Cons

Pressure relieving
Miratex foam absorbs movement from both you and your partner so you do not roll together
Luxury soft touch quilted knit cover for extra comfort and luxury
Supports you to the very edge of the mattress with no roll-off, meaning more sleep space
Hypoallergenic and dust mite resistant

The mattress needs to be left 1-2 weeks uncovered with an open window for the smell to dissipate
Conclusions:
The 3 Zone mattress contains a comfort layer of body moulding memory foam. The 3 Zone mattress provides support for your entire body, with soft support for your shoulders and medium support for your hips and lower back, providing a healthier sleep. The Miratex® foam core means you'll be supported to the very edge of the mattress, meaning more sleep space for you. The mattress comes with a luxurious soft knit cover for added comfort. This mattress is suitable for divan bases or bedsteads and what's more, you can sleep soundly safe in the knowledge that your mattress is guaranteed for 5 years.
---
Read more: Memory Foam Mattress Reviews
Related Items