The Leesa Sleep Limited is one of the bed-in-a-box companies that actually gets very good reviews online. Leesa with a simple goal: to help people sleep better.
The Leesa Mattress designed from the inside out with a universal adaptive feel to provide the cooling, contouring and core support everybody needs to sleep better.
Leesa Mattress with a beautifully designed and crafted mattress that meets the needs of almost everyone and an online shopping experience that makes buying a mattress simple and hassle free. And the return policy / sleep trial is so good that the risk is very low in buying this mattress (see Leesa return policy / sleep trial HERE).
It's not a perfect mattress fit for everyone, but I think it will be a good fit for a lot of peopleIt has a really nice foam feel with good pressure relief and good bounce.
Leesa mattress by Leesa Sleep Ltd
Built with Premium Materials for a Better Night's Sleep
Three layers of high quality foam deliver cooling bounce, contouring pressure relief and core support for amazing sleep, night after night.
1. Layered Foams
The Leesa mattress uses 3-layers of foam.
(1) Cooling Avena® Foam – The 5cm top layer allows air-flow for a cooler night's sleep. The Avena foam also provides enough bounce for freedom of movement.
(2) Pressure Relieving Memory Foam – The 5cm memory foam layer provides the body contouring and pressure relief you've come to expect from memory foam.
(3) Dense Core Support – The 15cm dense core support foam adds strength, durability and structure to support sleepers of all sizes, without feeling too firm on top
The Leesa mattress is a hybrid mattress. The idea behind hybrids is to get the benefits that both Avena and memory foam have to offer, while minimizing their negative attributes. Avena foam is a latex foam alternative; as such it's designed to provide airflow, cooling, and great comfort. Memory foam, while extremely supportive, tends to "sleep hot". However, by layering Avena and memory foam together you get great support, comfort, and a cool top layer.
2. Cover
The cover is cut from a single piece of fabric that wraps the entirety of the mattress.
While the cover itself is functionally not a major factor (i.e., you never will see it once you put your sheets on it), to me it speaks volumes about Leesa as a company.
Quite frankly, the cover just looks awesome. I personally love the Leesa 4-bar design. And being cut from a single piece of fabric makes it look that much sharper. Additionally, the cover itself is fairly thick. It's a high-quality piece of material that has been woven well. The cover is constructed from a poly-lycra blend fabric. Lycra is the same material they use in performance sports clothing. It's highly durable, stretchy, and breathable.
From my perspective, if Leesa is willing to go to these lengths to create a beautiful, soft, and eye-catching cover, the rest of the mattress is likely built to the same standards.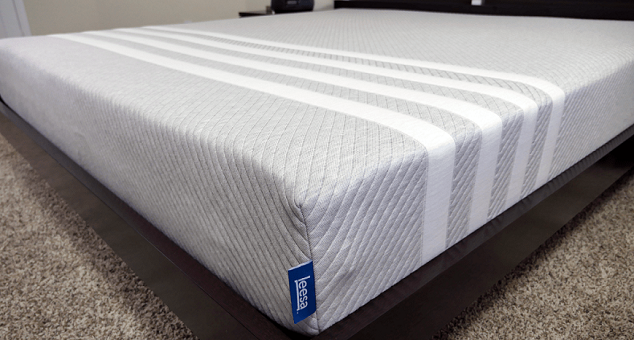 3. Firmness, Comfort, & Support
Leesa has 5cm of Avena foam as the top layer, 5cm of memory foam in the middle, and 15cm of foundational foam. The Leesa is fairly neutral in terms of firmness. It's a mattress designed to meet the needs of the majority of sleepers. It's sits at a 6 out of 10 on the firmness scale (where 10 is the most firm).
The 10cm combination of Avena and memory foam is interesting. It's the subtle combination of Avena foam softness with memory foam hugging support that is unlike any other mattress.
The Avena top layer feels fabulous. When you initially lie down, you can immediately feel a great softness and subtle hug around your body. After a moment, the memory foam begins to conform to your body shape.
In terms of overall comfort and support, for me, it's really hard to beat the Leesa. To put it bluntly…it just feels really good. Compared to other factory direct mattresses, Leesa is on the high-end in terms of foam thickness.
4. Sinkage & Motion Transfer
The Leesa's overall sinkage is moderate. Additionally, the Avena and memory foams do a good job of minimizing motion transfer, which makes it ideal for couples.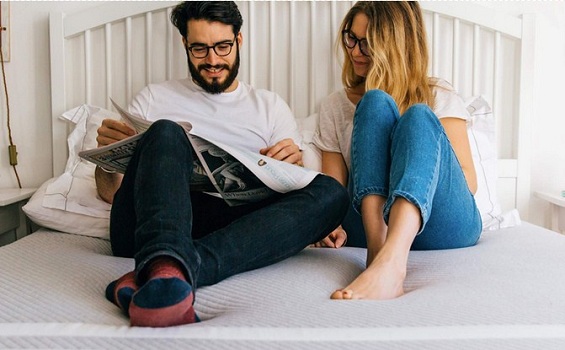 The big thing I look for is the full collapse. The Leesa showed some sinkage in each position, but it did not collapse or lose structural integrity, while all foam mattresses tend to struggle with edge support. This is an important factor for both sleeping (near the edge), sitting on the edge, and amorous activities.
5. Simple Setup
Unbox: Carry your Leesa box to wherever you intend to sleep and unbox it on its side.
Position: Position your rolled up Leesa on any solid or slatted foundation and remove the outer plastic.
Unwrap: Unroll and unfold the mattress and tear away the inner plastic wrap.
Expand: Watch your Leesa expand and take shape (note: any wrinkles will soon dissipate).
---
Leesa Mattress UK Reviews
1. See what the press are saying about Leesa
This Best Buy is suitable for everyone and is one of the best mattresses we've tested in recent years."
Which?

"10/10. Maximun marks across design and performance – enabling a good night;s sleepwith optimuncomfort." – Verity Mann, Head of Testing
Good Houseeeping

"It's brilliantfor restless sleepers… no otherpart of the bebmoveswhen you do. Both the breathability and longevity aresecond-to-one"
The Independent

And over 12421 verified Leesa customers reviews, Read customer reviews
2. The Price & Where to buy Leesa Mattress in the UK
>> GET £80 OFF THE LEESA MATTRESS, CHECK HERE! <<
3. Why Leesa mattress?
I would recommend it for almost anyone. It's fairly neutral in terms of overall firmness. The subtle hug of the Avena foam combined with supportive memory foam meshes well for any sleeping position.
The right mattress for you?
I would recommend the Leesa to anyone who falls into the following categories:
You like a medium firmness mattress, something in the 6 out of 10 range on the firmness scale (where 10 is the most firm)
You like a mattress with a balanced feel
You like a mattress with a slight amount of sinkage and good body contouring
You want a mattress that uses very high quality materials, but is still very reasonably priced
Reasons to choose Leesa:
Easier Shopping: Leesa is sold only online, better value, althought no opportunity to lay on it before purchasing.
The mattress has a 100-Night Sleep Trial: I think it will be "love at first night," but there's no rush. You have up to 100 nights to fall in love with your Leesa, which means you can return it within 100 days of purchase for a full refund.
Free Delivery & Returns: Your Leesa is built-to-order in 2 – 5 business days and then delivered to you compressed in a box.
Made in the UK: Leesa mattress is domestically manufactured, in the heart of the UK.
You want to buy from a company that actively and dramatically helps those in need (Giving Back – "We give one mattress to homeless shelters for every ten we sell.")
Conclusions
Leesa is the full package. From the mattress to customer service, trial period, refunds, shipping, and their active approach to philanthropy, they check all my boxes. It's truly a high-quality mattress at a great price suitable for almost any sleeping type.
Leesa is a bed-in-a-box foam mattress that I find to be on the higher end of the comfort spectrum. It has one of the best balances of comfort and support, and is actually very comfortable in all of the three main sleeping positions.
---
Read more: Hybrid Mattress Review
Related Items