Today there are a variety of mattresses available on the market seem overwhelming. Most mattress manufacturers make more than one type – different varieties go through a different manufacturing process and cost different amounts.
However, price is not everything, because the most important thing is that you are comfortable. A good sleep on a comfortable mattress is a luxury. Today, when everyone is chasing his/her dreams, a refreshing sleep is a necessity.
To help get you started in deciding which mattress is best for you, we've put together this easy-to-follow overview of the leading mattress types: Innerspring mattress, Memory foam mattress, Pocket sprung mattress, Latex mattress, Hybrid mattress, Pillow top mattress, Gel mattress, Coolblue mattress; along with the pros & cons of each design.
---
Mattress Types Guide
It is no accident that innerspring mattresses have beenthe world's most popular mattress design for generations. Not only do they provide proven comfort that holds up well over time, but they also deliver a solid night's sleep at a price that won't break the bank. Innerspring designs arebuilt around a singular spring assembly unit, unlike the several hundred spring design of a pocketed spring mattress.
These types of beds are synonymous with value and long-term reliability. Innerspring mattresses rely on a singular core assembly that works to distribute body weight evenly across the entire surface of the bed.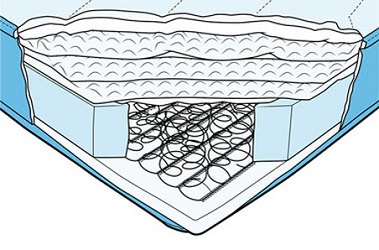 Pros and cons of Innerspring mattress

Pros: Consistent comfort; a proven history; extremely reasonable prices.
Cons: Less than optimal ability to adapt to the curvature of your spine; doesn't prevent motion transfer (which could disturb your partner's sleep); cheaper designs have a short lifespan and can feel flimsy.
>> Read more: Innerspring Mattress Review
The pocketed spring mattress is drastically different from standard innerspring mattresses. They create an entirely independent suspension system comprised of several hundred individually fabric-encased spring. No one spring isphysically tied to (or impactedby) another, allowing for a superior level of support with numerous benefits.
Pocketed spring designs rely on several hundred, individually encased springs to provide an excellent combination of precise spine support and minimize motion transfer to your partner.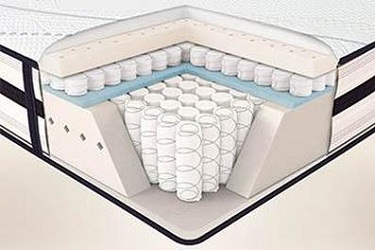 Pros and cons of Pocket spring mattress

Pros: Excellent comfort that adapts to pressure points; eliminates motion transfer so that both you and your partner can sleep soundly through the night; provides high value for the price.
Cons: Doesn't contain all the bells and whistles of more modern bed types that have advanced the pocketed coil design toward even greater comfort.
>> Check list pocketed spring mattress recommended HERE
Hybrid mattresses combine two ormoreprimary bedding matterials from other types of mattresses tocreate an entirely new type of bed with its own unique feel. The most popular hybrid designs typically combine memory oam with pocketed and nano springs as well as incorporating various other materials in the hybrid bed construction.
Hybrid mattresses combine popular materials (like memory foam, pocketed springs, and latex) to create an entirely new type of mattress construction with its own unique properties.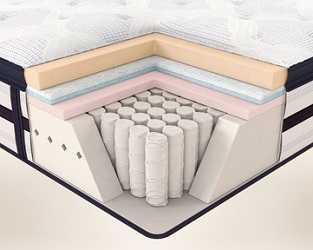 Pros and cons of Hybrid mattress

Pros: Conforms to your body as well as memory foam without sacrificing the nostalgic "bounce" factor of innerspring mattreses.
Cons: Hybrid labeling can sometimes be ambiguous and misleading as to what materials are actually inside; some hybrids provide only trivial advantages over standard pocketed coil designs.
>> Read more: Hybrid Mattress Reviews
Memory foam mattresses are designed to contour to your body shape, although they don't bounce back as quickly as all-latex, hybrid or innerspring mattresses. The support core is made of polyurethane foam and the comfort layers are visco-elastic foam. This foam softens as it warms, making it ideal for conforming to your body as you sleep.
First designed for NASA space missions, memory foam offers a completely unique feel that has captured the adoration of millions of people who suffer from arthritis and chronic joint pain. Combination sleepers should look at the thickness of the comfort layer to choose an appropriate memory foam mattress for their common sleeping positions.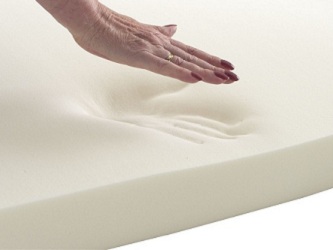 Pros and cons of Memory foam mattress

Pros: Highly touted by back and joint pain sufferers for the orthopedic support they provide while conforming to every curvature of your body.
Cons: Often sleeps hot as a result of traditional memory foam's poor breathability; lack of "bounce" makes for a sleep surface that sometimes feels more like quicksand.
>> Read more: Memory Foam Mattress Review
If you've never tried sleeping on a latex mattress, you owe it to yourself to see what you've been touch of memory foam feels totally diffrent from the responsive support of springs: latex occupies a territory completely its own.
Latex mattresses are constructed entirely of all-natural latex or a combination of natural with synthetic latex and other memory foams (known as latex hybrid mattresses). Latex mattresses are extremely dense and durable, so their high price point pays off. Because they're made of rubber, latex mattresses have a springier feel while providing firm support. They quickly bounce back after being compressed to adjust to your sleeping position, making them ideally suited to combination sleepers.
Cool, responsive, and contouring, latex mattresses have a loyal following among those who have a hard time deciding between springs and memory foam.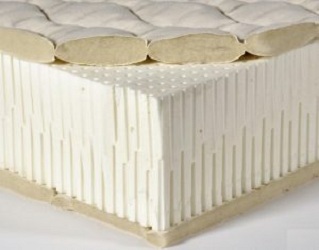 Pros and cons of Latex mattress

Pros: Cool sleep surface that conforms to your body like memory foam without making it difficult to change sleep positions throughout the night.
Cons: Some people don't like the "spongy" feel for latex; latex allergies might deter a small number of people; latex beds can be expensive.
>> Read more: Latex Mattress Reivew
Pillow-top mattresses have an additional upholstery layer sewn onto the top of the mattress, as if pillows were placed on top of it. This padding can consist of regular polyurethane foam, memory foam, latex, fiberfill, polypropylene, cotton or wool.
The pillow top is effective at reducing pressure points, relieving pain and fostering better sleep. Pillow Top mattresses provide the ultimate sleep comfort. Constructed with a 3-inch layer of cushion foam on top, the pillow top mattress contours to the body to create an exceptionally soothing, tranquil sleep.
A euro top mattress is very similar to a pillow top mattress, except that it lines up with the edge of the mattress. Rather than looking like a pillow sitting on top of a mattress, euro tops are sewn to create a flush, uniformed appearance.
Euro Top mattresses supply exceptional body contouring by adding a 3-inch tier of cushion foam to the uppermost mattress layer. Providing a smooth transition from mattress to comfort layer, the euro top mattress delivers superior rest and luxurious design.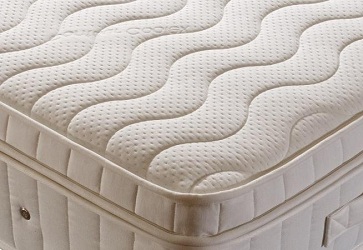 Pros and Cons of Pillow Top Mattress

Pros: You will the be able to twist, turn and rotate the mattress, and twist, turn and rotate the topper. Thereby getting maximum use out of both of them. Also, as the replacement cost of the topper will be less than the replacement of an entire mattress, It should stay as good as new for considerably longer.
Cons: The problem is pillow tops can severely reduce the lifespan of your bed and once they compress, that's it you're stuck with it.
>> Read more: Pillow-Top Mattress Review
7. Gel Mattress
The gel trend was largely sparked by Serta, whose iComfort gel memory foam mattress line made a splash in 2011. Originally, it was introduced to help combat the notion that memory foam mattresses sleep hot. So they wanted to infuse their mattress with gel thinking that it would help regulate the temperature of the mattress and the person laying on it. These are now some of the best selling mattresses on the market.
Gel mattresses use foam that contains gel in the product's support system, upholstery layers or both. The gel is added to the foam using different types of technology.
Pros and cons of Gel mattress

Pros: This gel mattress can offer consumers comfort. The aeration technique within the mattress keeps you cool and helps you get a good night's sleep without having to experience any heat disruption.
Cons: Limitations in firmness options & may be too plush for some.
8. Coolblue Mattress
Coolblue is a hybrid mattress foam that has been developed by British Vita to overcome some of the complaints that memory foam has received over the years. The main complaints of memory foam are, that it's in the summer months, memory foam is often criticised for being incredibly warm and making sleepers sweat profusely.
Coolblue is great for people who like the feel of memory foam but want a more sophisticated foam mattress which responds faster and is cooler than memory foam.
Pros: Coolblue mattresses are less heat retentive when compared to memory foam making it a cooler foam.
---

What is the Best Mattress for You?
The truth is nothing called "perfect mattress" for everyone. So, when you choose to buy a new mattress, it is important that you choose the type of mattress that suits your sleeping posture and health status – is there any back pain? A good sleep on a comfortable mattress is a luxury.
Your sleeping pose can have a major impact on your slumber—as well as your overall health, such as posture could potentially cause back and neck pain, fatigue, sleep apnea, muscle cramping, impaired circulation, headaches, heartburn, tummy troubles, and even premature wrinkles.
This is ratings of sleeping postures, from best to worst: 1. On Your Back; 2. On Your Side; 3. On Your Stomach. What is your favourite sleeping position?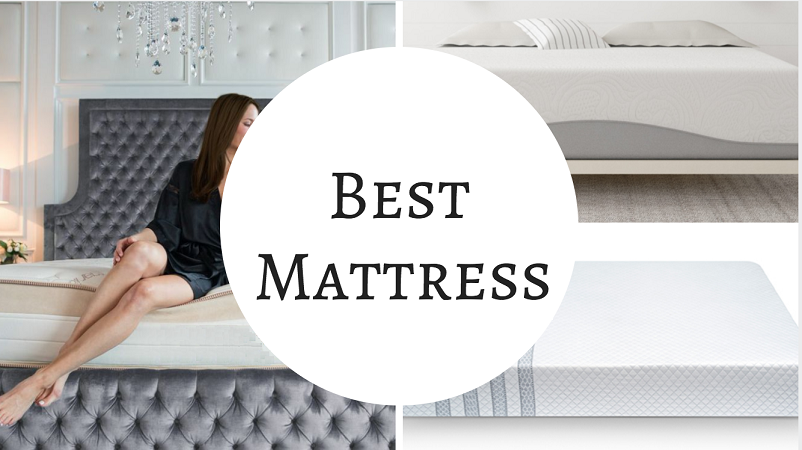 1. Best mattresses recommended for combination sleepers
If you are sleepers tend to sleep with all sleeping pose styles (On your side, On your stomach, On your back), you're a combination sleeper, leading to a lot of movement in the bed.
The best mattresses for combination sleepers are latex and memory foam mattresses. Those mattresses, which have high motion isolation, while still being firm and variously soft are ideal for these sleepers.
2. Best mattresses recommended for side sleepers
When you sleep on side, there are more curves on your side (shoulders, hips and knees), which means more tension and pressure on the mattress. You need a softer mattress can give you the support you need while gently cradling your hips and shoulders to prevent stress and injury.
In this case mattresses that are best for side sleepers are made of latex foam. Beacuse latex memory foam mattresses can be more durable and keep its shape better than standard memory foam – which also means that latex memory foam can stave off the arrival of common problems like indents or depressions when you sleep in the same place night after night. It's also circulates air better than standard memory foam and keeps you cool and comfortable all night long.
3. Best mattresses recommended for stomach sleepers
The stomach sleeping position is the least common and most finicky of the sleeping positions. With all of one's weight dropping to the stomach area, it puts more pressure on the spine. The problem with being a stomach sleeper is you need a mattress rigid enough to keep your spine properly aligned, but soft enough to reduce pressure on your ribs and stomach.
The medium-firm mattress is ideal for stomach sleepers. These mattresses are firm enough to be supportive and keep you from sinking in, but padded enough to avoid feeling hard and uncomfortable.
4. Best mattresses recommended for back pain:
Before shopping for mattresses, people with chronic back pain problems should know about the different mattress types and the technologies behind them. The truth is that the "right" mattress is different for each person, depending on each person's body type and sleeping habits.
For back sleepers, You need a enough firm mattress to support your lower back while being soft enough to contour to your body. In fact, too-stiff mattresses tend to push against the spine while too-soft mattresses don't offer enough support. A medium firm mattress is ideal for this type of sleeper.
For side sleepers, a mattress with slight softness is necessary to cushion the shoulders and hips. Soft – typically a soft mattress will fall anywhere between a 3-5 out of 10 on the firmness scale, with 10 being the most firm. These mattresses have a significant amount of hug and sinkage, usually in the 1.5-3″ range.
Stomach sleepers (who very likely sleep this way because of lower back pain) need a firmer mattress to keep them afloat.
For combination sleepers, Most sleepers tend to sleep with a combination of all these styles, leading to a lot of movement in the bed. The best memory foam mattresses, which have high motion isolation, while still being firm and variously soft (depending on the type) are ideal for these sleepers.
Conclusion: Based on everything we've looked at, medium-firm memory foam mattresses are perfect for those suffering back pain. Memory Foam contours the entire body without any gaps unlike innerspring mattresses. Most often, medium-firm mattresses let the spine to rest in a natural position.
---
Tip: Today, thanks to the new approach of several mattress producers, you can order the mattress online and try it in the comfort of your home for a few weeks, and return it if you aren't satisfied for little or even no cost at all.
Read more: Where To Buy Cheap Mattress Online
At Mattresses Recommended, we know that not everyone agrees on the best mattresses we recommend. if you have any questions please feel free to contact me here.
Related Items