Firmer is the level of support to the body, suitable for average to heavily weighted people.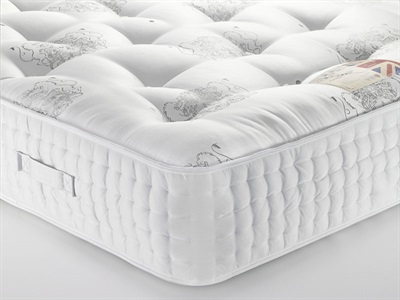 British Bed Company The Grand Duke 2021 Pocket Sprung Mattress (from £424.15) at Mattressman
Firmer, Pocket Sprung, Natural, Free Next Day Delivery
Available in sizes: Small Single | Single | Small Double | Double | King Size | Superking
Description
The Grand Duke 2021
For a quality, supportive mattress consider The Grand Duke from the British Bed Company. It ticks both of these boxes, as well as having hand-tufts for extra tension, vents for breathability and a 'bulldog border', which is a rod edging around the mattress to prevent sagging. You can also feel secure over the 5 year guarantee that the British Bed Company offer.
Firmer mattress tension – is it for me?
This kind of mattress tension is best designed for people who prefer to sleep on their back or those who are of heavier statures. As for the former a firmer mattress can properly support natural spine alignment, and for the latter it means that your weight can be evenly distributed. Overall, this you can wake up without aches and pains in the morning, knowing you've been fully supported.
---
View More – Most Popular Mattress On Amazon
[asa_collection tpl="my_template" items=10 type="random"]mattresses[/asa_collection]
Related Items