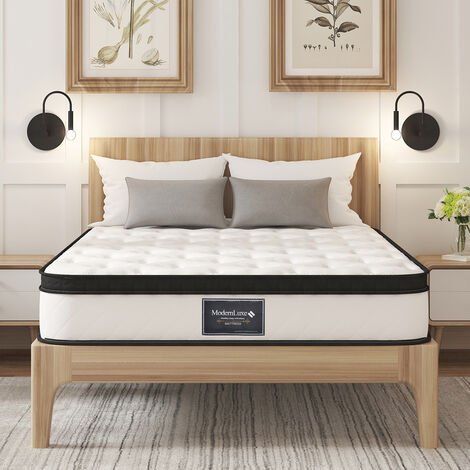 4FT6 Double Mattress , 7 Zone Pocket Sprung mattress , Wave Memory Foam Sprung mattress, Motion Isolation 25 cm Height (from ManoMano)
Available size: Small Single | Single | Small Double | Double | King Size | Super King
 Hybrid mattress
25 cm hybrid mattress combines memory foam with the traditional support of an innerspring mattress for a medium-firm feel perfect for kid rooms, guest beds, or an affordable low-profile option. A plush layer of memory foam helps align the spine to minimize pressure points for increased comfort.
Regulates temperature
Regulates temperature: If you sleep hot, you might prefer a more breathable mattress. This mattress contains small ventilation pockets to promote airflow and prevent body heat from staying trapped in the mattress.
Mattress in one box Vacuum Packed & Rolled: Rolled mattresses have the advantage of being easy to transport, especially to upstairs bedrooms. When unrolled, they expand fully and are usually ready to sleep on within 24 hours.
Low Hazard
The squeaking noises from a noisy mattress can be DREADFUL to deal with. Different from 3-zone mattresses, a 7-zone pocket spring has more areas of zoning to provide additional support for your body contours, which also effectively absorbs any movement or weight on its surface and creates a quiet sleeping environment.
Anti-microbial and Anti-fungal
This anti-bacterial mattress is exclusively designed to prevent the growth of dust mites and other microscopic bacteria. The unique composition material keeps the mattress dry and stops the dust mites from getting inside the mattress cover.
4FT6 Double Mattress , 7 Zone Pocket Sprung mattress , Wave Memory Foam Sprung mattress, Motion Isolation 25 cm Height
Features
productRef

ME55402753

Warranty

1 year

manufacturerSKU

WF283587AAA
4FT6 Double Mattress , 7 Zone Pocket Sprung mattress , Wave Memory Foam Sprung mattress, Motion Isolation 25 cm Height
Related Items